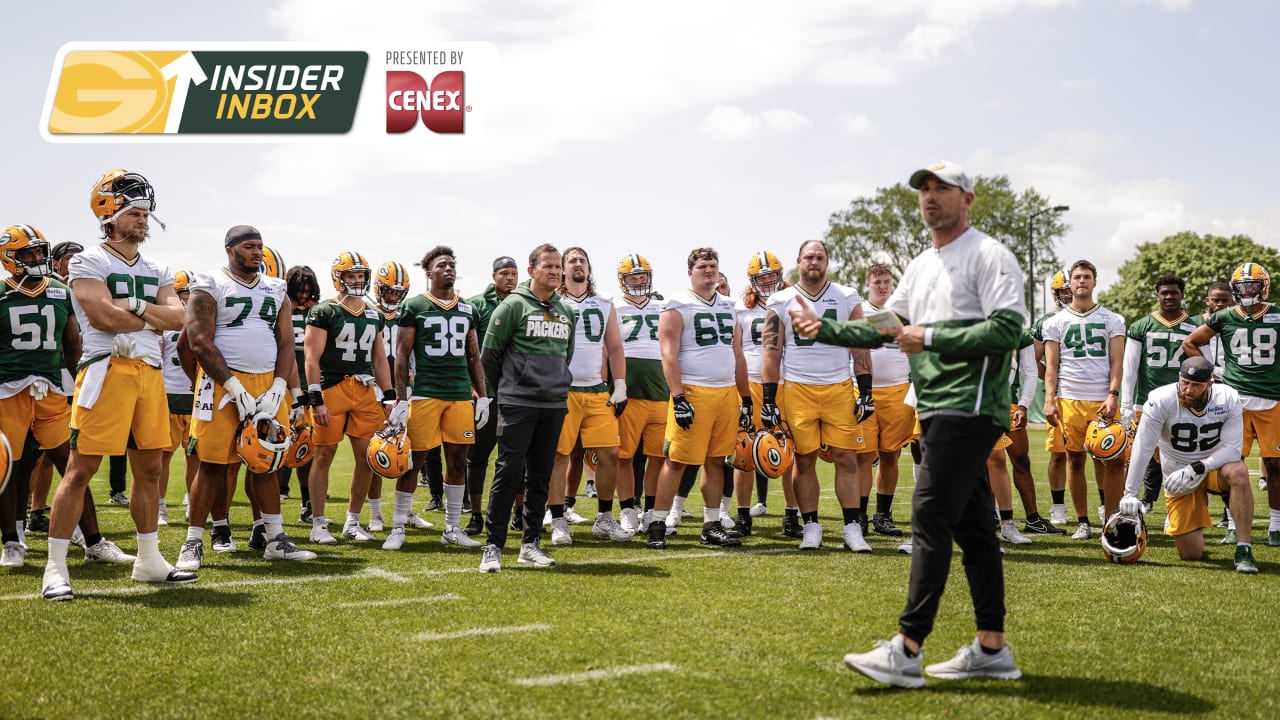 Derek from Eau Claire, WI
Is Brett Favre the last Packer wearing a single digit number to catch a pass for the Packers? Amari Rodgers is hopefully fixing to be the next.
Brett Hundley, wearing No. 7, caught a 10-yard pass from Randall Cobb in the 2017 season finale at Detroit.
Geoffrey from Rosemount, MN
Any idea who the most successful QBs are that listed at 6-6 or taller?
Joe Flacco and Nick Foles, both of whom I believe are 6-6, have won Super Bowls.
Brendan from Mount Clemens, MI
Mike, I hope you enjoyed the baseball game, even though the result wasn't great. I made a return trip to Comerica Park this past weekend; it was great to be back. My question is, when you attend public events like a baseball game, do you and Wes find yourselves being recognized and approached by the loyal II readers, or not so much? I'd hypothetically welcome the chance to buy you a cold beverage to thank you for your awesome work covering the Pack, and quickly get out of your hair. Cheers.
It's hit or miss. I get recognized occasionally, and I've had some fun conversations. I also appreciate just blending in and going about my life. But I would never blow off an II reader unless I were truly in a hurry or late for something. It's the least I can do for everyone's dedicated readership. It was great to be back at a ballpark, outcome notwithstanding. I'm going back again in a couple weeks.
Dennis from Appleton, WI
Why is it that quarterbacks are often poised with all fingers spread out on their non-throwing hand when in a passing stance? Almost of if they were a child preparing to trace their spread hand on a piece of paper to create a Thanksgiving turkey! Is this part of Quarterbacking 101 for a specific reason?
Maybe ball security? If the other hand is already spread out, it's ready to help cover up the ball in case of a hit.
Scott from Grovetown, GA
Greetings. Here's the deal. Every year it seems during OTAs there is a declaration of this being the deepest roster in a few years, or the coaches like what they see on the field, or the effort players are putting in is extraordinary. This hype "game" plays out every off season and frankly all it is at this point is bologna or baloney (whichever you prefer) – only not that b-word. I'll still read to keep up, but I am waiting until 12 Sept. to put away the bologna to see what's really cooking.
Aren't we all. I will say this – just because I mentioned this is the deepest 90-man roster I can recall in several years doesn't guarantee the 53 will be any better. That's the idea, of course. A deeper pool means a better finished product. But injuries, performance decline, rookie readiness (or lack thereof) all contribute to the construction of the roster the Packers will take into the season, and there's still a ton of unknown.
Brian from Okinawa, Japan
This year, Russ Ball might be as responsible for the team's depth as anyone.
Valid point. The salary cap gymnastics to keep the bulk of the team together were the most challenging they've ever been.