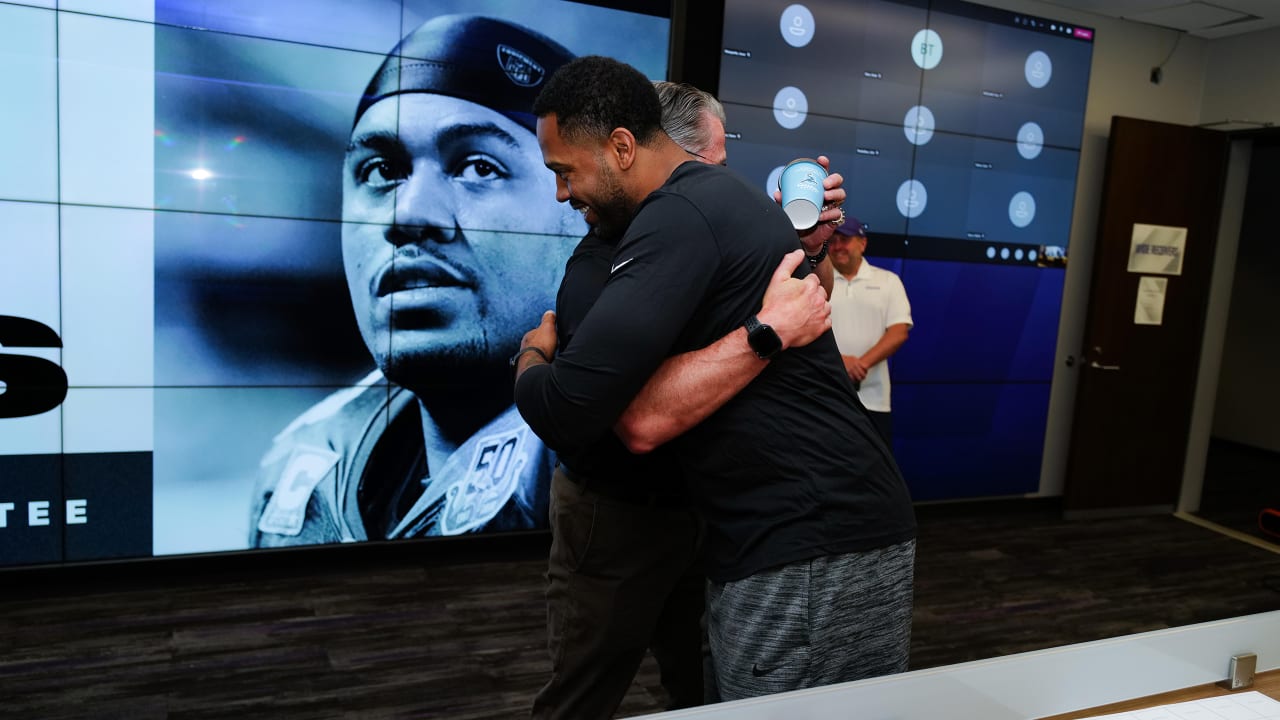 From Marshall, who started 270 consecutive regular-season games for Minnesota, and the other Purple People Eaters to John Randle, Williams has always strived to honor the legacy of the Vikings defensive linemen who went before him.
"To get here and learn of the things accomplished and all the games they won and how great they were as a front, and then to have [Chris] Doleman and Johnny and all those guys – [Chris] Hovan and others – who played the D-line position here, those were big shoes to fill," Williams said. "If you're a D-lineman and you come to Minnesota, you've got to hold your own. You're following some great guys that really played the game well."
He recalled his first days at the team's Winter Park training facility after being drafted. Longtime Vikings equipment manager Dennis Ryan had presented Williams with available jersey numbers – "I don't remember but guessing not many other 90 options but a few 60s and 70s, which weren't favored by defensive players," Ryan says 18 years later – and Williams opted for 93.
Ninety-three. The number worn by Randle, an undrafted free agent in 1990 who exploded onto the scene for Minnesota and became a seven-time Pro Bowler and six-time All-Pro on his way to the Vikings Ring of Honor and Pro Football Hall of Fame.
But for a kid from Arkadelphia, Arkansas, the number didn't immediately stand out as significant to Williams.
"I picked 93 not knowing any of the tradition. I didn't follow the Vikings. We didn't get to see Vikings games in Arkansas, so I didn't know anything about it. And then you get here and find out, 'Oh my goodness, Johnny wore 93.' And I never said it to anybody, but I'm like, 'I can't be a bust here. I have to get out there and get after it and perform.' That kind of battle I fought with myself to be successful, and here we are today."
Well, consider that battle won.
"It worked out," Williams agreed, nodding. "It worked out, but man, those were big shoes to fill following those guys – all the great D-linemen that played."
A brotherhood and fatherhood
Williams doesn't get too high or too low – he never has – but he also doesn't take such an honor for granted.
He reflected on the day's whirlwind of activity.
"I mean, I was just excited to see the facilities and get back around the guys and the team and everything, and then to walk in the room and you've got your execs and your owners … and they're looking at you, you're like, 'What? What did I do?' And then it kind of got – I'm not going to say 'emotional,' I try not to cry too much – but it was kind of emotional to see those guys kind of showing you the respect and honoring you with going into the Ring," Williams said. "I know Viking tradition is rich with great players, and I tell my buddies all the time, 'I've got time. There's more guys. A lot more guys to go ahead of me.' To be honored with that, it was real humbling and kind of surreal."
Williams is thankful for the many people who helped him along the way:
He mentioned former Vikings assistant coaches Karl Dunbar and George O'Leary.