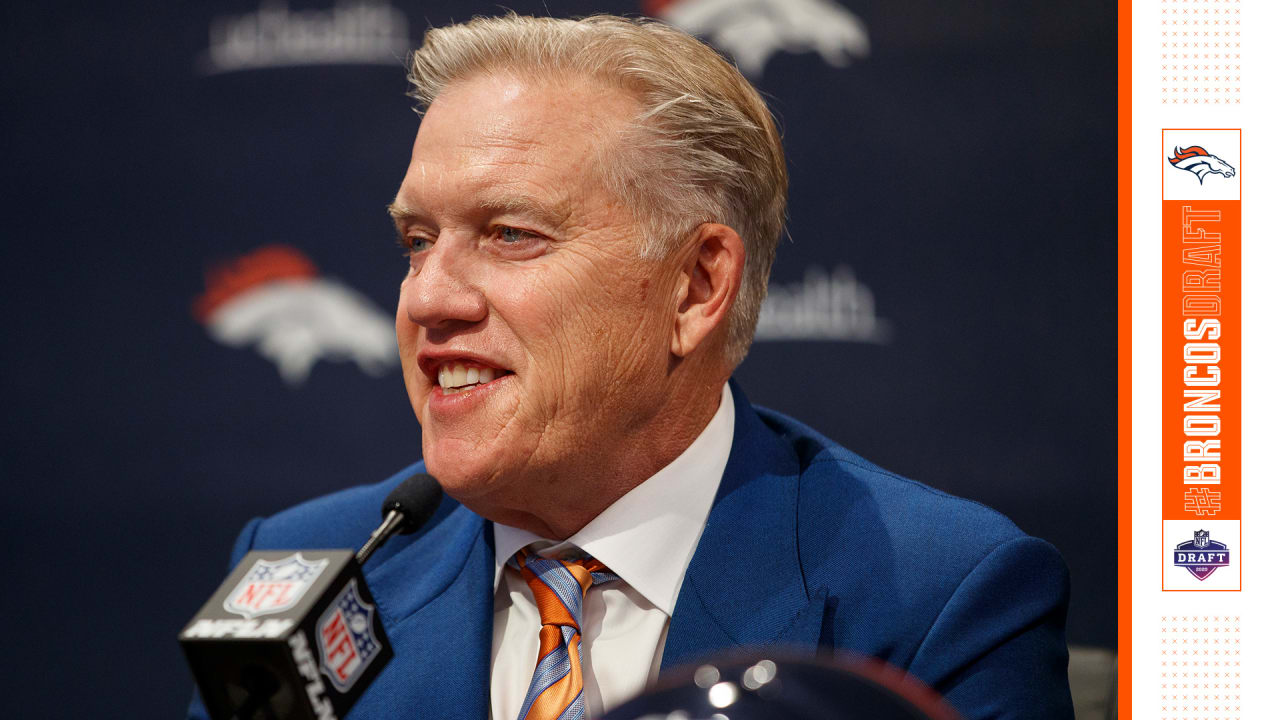 Dan Kadar, SB Nation
: B+
"… The team's second-round pick was used on Penn State's KJ Hamler. If there is a DeSean Jackson in this draft, it is Hamler. His game is speed and more speed. Speaking of, the Broncos got Lock another speedy target in tight end Albert Okwuegbunam of Missouri in the fourth round. A year after taking Noah Fant, the Broncos now have two young tight ends to diversify their offense. …"
Andy Benoit, Sports Illustrated
: A
"The Broncos have a budding star in "X" receiver Courtland Sutton, who can consistently win one-on-one downfield on the perimeter and hurt teams with in-breaking routes. But for their optimism in 2019 second-round quarterback Drew Lock to be fully realized, they needed a "Z" receiver—that guy who can go in motion, run every route at every level and contribute via yards-after-catch. Some feel that Jerry Jeudy is the best route runner coming out of college in this era. The Broncos addressed a glaring need with a stylistically perfect prospect, and they didn't have to trade up to do it. …"
Nate Davis, USA TODAY
: B+
"If there's any element of glass half-empty here, it would be the expectations mounting on QB Drew Lock – he won four of five starts to conclude his rookie year – after GM John Elway surrounded him with so many additional weapons. First-rounder Jerry Jeudy is as polished an incoming player as you'll find at receiver while second-round WR K.J. Hamler should fly down the field, opening things up for Jeudy, Pro Bowler Courtland Sutton and TE Noah Fant. Elway also reinforced the O-line and patched holes on the D-line and secondary. Ball's in your court, Drew. No pressure."
Mel Kiper Jr., ESPN
: C+
"All along, I leaned wide receiver for the Broncos at No. 15. It just made too much sense to get some help on the other side of Courtland Sutton, who had a breakout 2019 season, accounting for 33% of the Broncos' receiving yards. And if Denver is all-in on giving the reins to second-year quarterback Drew Lock, it needs to give him more weapons to get a fuller evaluation. That's why one of my favorite picks was Jerry Jeudy falling into the laps of the Broncos at No. 15. He is my top-ranked wideout, a big-play machine, a smooth route runner and a plug-and-play starter. He's exactly what this team needs. …"
Luke Easterling, Draft Wire
: A
"… Day 3 was filled with solid depth and value, but two picks stood out, in particular. Missouri tight end Albert Okwuegbunam reunited with Lock, his college quarterback from a year ago, and Fresno State guard Netane Muti had no business being available in the sixth round."
Hayden Winks, Rotoworld
: A-
"… Cushenberry was voted as LSU's MVP last season and is a 61st percentile Adjusted SPARQ athlete. He is a mauler in the run game and pass-blocked a lot more than most interior offensive linemen in college. Cushenberry profiles as a quality NFL starter. Getting him at No. 83 was great value... Agim didn't live up to his high school recruiting rank but tested in the 88th percentile at the NFL Combine and lands in a great spot with Vic Fangio in Denver. He could develop into a decent starter within a few seasons..."
Ryan Dunleavy, New York Post
: A
"Best collection of offensive skill talent in the NFL? Adding this class to Melvin Gordon, Courtland Sutton, Noah Fant and Phillip Lindsay makes a strong case. Drew Lock is a lucky quarterback."