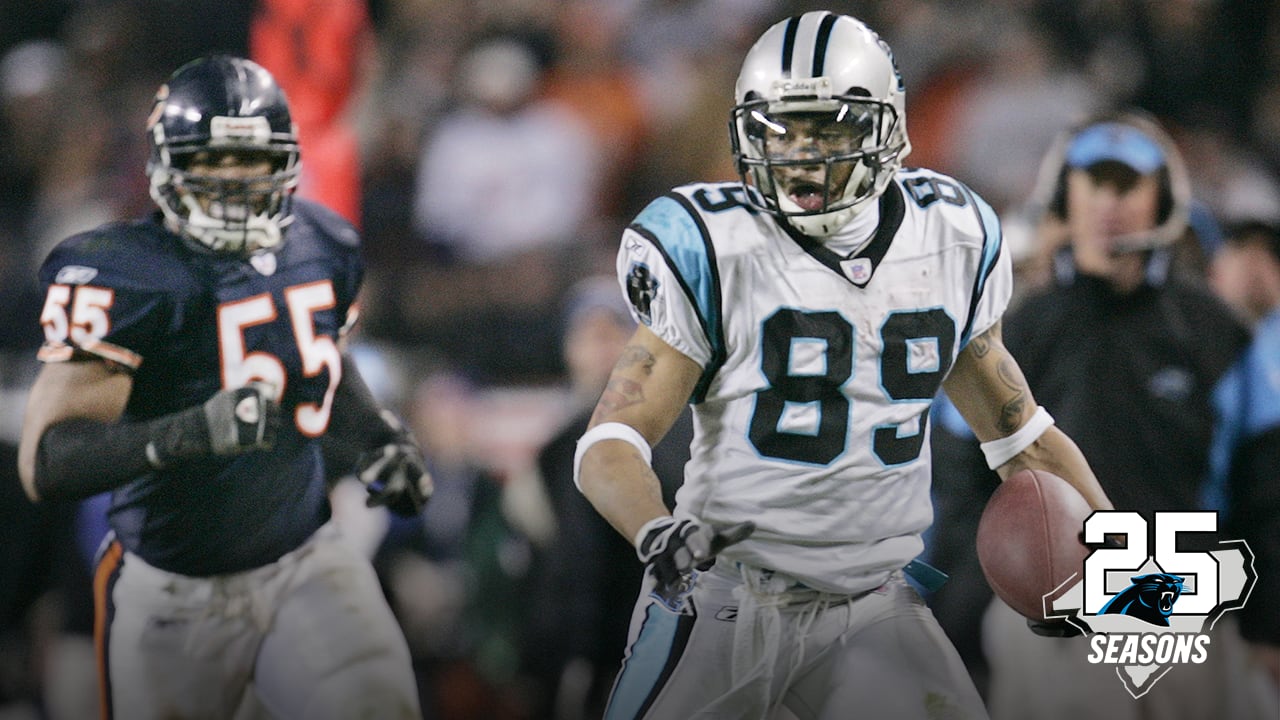 Just 55 seconds into the game, Delhomme found the streaking Smith for a 58-yard touchdown that gave the Panthers a 7-0 lead they would never relinquish. Delhomme remembers it clearly to this day.
"Steve ran down the right sideline, right past (cornerback) Charles Tillman and then Mike Brown, who was the safety. He made him miss," Delhomme said.
Although the Panthers never trailed, the Bears had pulled to within 16-14 when Delhomme connected with Smith for another touchdown, this time from 39 yards, to extend the lead to 23-14 just before the end of the third quarter.
"They had some kind of mix-up and they ended up having a young guy covering Steve, and I was able to get a check-off and set a go route," Delhomme said. "Steve just ran right past the guy, really put the burners on and took off, and we scored again. That's when Steve jumped on the goalpost and kind of slid down it like he was a fireman or something."
When the day was over, Smith had produced 12 catches for 218 yards and two touchdowns. The performance - one of the best in NFL playoff history - followed a regular season in which he led the NFL with 1,563 receiving yards, one year after breaking his leg in the 2004 season opener versus Green Bay.
"I'm really just utilizing my talents," Smith said. "They throw me the ball, it's my job to catch it. If I don't catch the ball, they will get somebody in here who will. I've got people at home depending on me to do my job, so I can't come home with excuses."
Head coach John Fox said, "He (Smith) is as tough a competitor as you can find at any position. He does well home or away."
The Panthers won despite losing running back DeShaun Foster, a key offensive weapon, when he suffered a broken leg during the game that sidelined him for the rest of the playoffs.
"And DeShaun was having a fantastic second half of the season," Delhomme said. "But DeShaun breaks his leg, and we were still able to get after them and keep them where they were playing from behind. To be honest, their offense really wasn't that great. And on defense, they couldn't really run their typical cover-2 type scheme. They had to play man-to-man, and we were really able to get after them and close the deal."