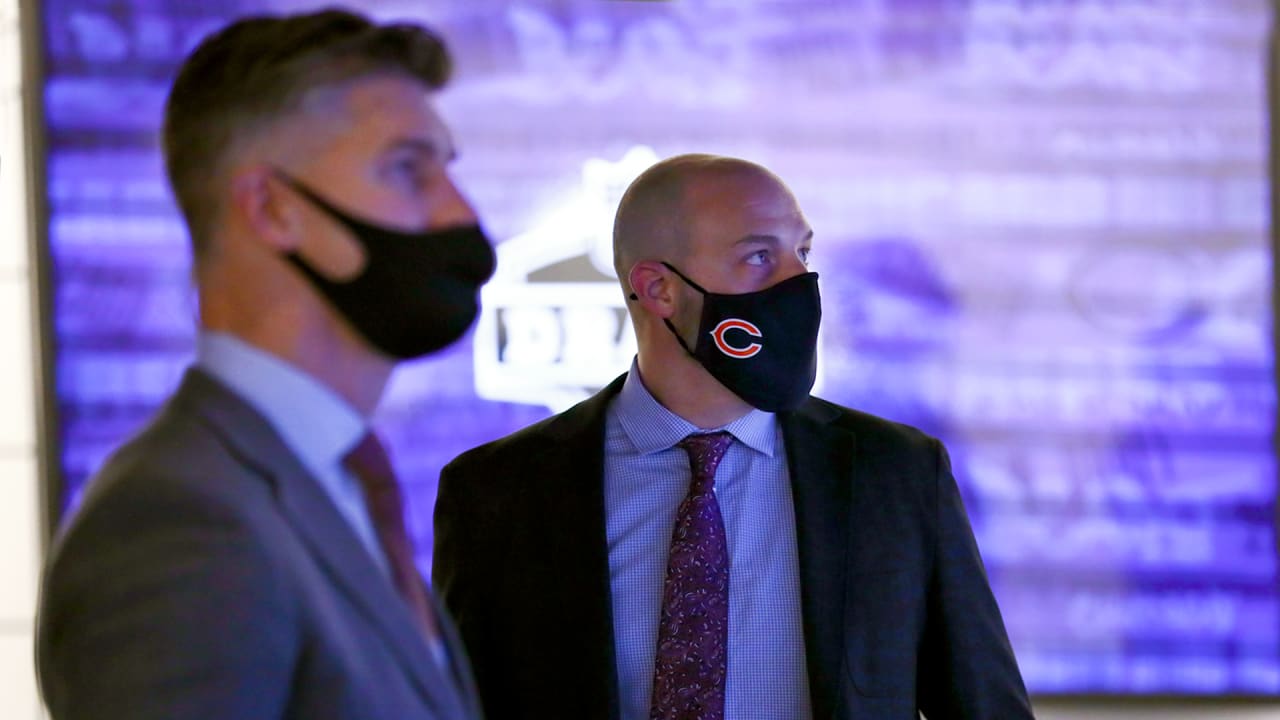 Here are three things that stood out in "1920 Football Drive, Episode 4":
• The feature opens with a look at Bears area scouts, who spend much of their lives in their cars driving from campus to campus and staying in hotels while traversing the country evaluating college prospects.
Bears area scout Sam Summerville estimated that he stays in hotels 150 nights a year, traveling to college games, practices and Pro Days. One of the most emotional moments in the episode is when Summerville arrives home and is greeted by his two euphoric young children.
Another Bears area scout, David Williams, acknowledges the sacrifices that he and his counterparts make. Fittingly, Williams is interviewed in his car while attending three Pro Days in 24 hours, driving to Colorado State and Colorado before boarding a plane to Los Angeles to visit UCLA.
"We spend quite a bit of time away from our families and it's really for our passion for football," Williams said. "It's one of the things we get used to. The hotel food does get old, so it's things like that that over the years we kind of learn how to adjust to, but it's tough."
• There's no more raw emotion than when coach Matt Nagy calls the Bears picks to tell them they've just been drafted.
The highlight, as you'd suspect, is when Nagy phones Fields after the Bears traded up nine spots in the first round to land the star quarterback from Ohio State.
As the draft room erupts with excitement, Nagy hugs and high-fives general manager Ryan Pace and Bears president and CEO Ted Phillips. Nagy tells Fields on the phone: "We are
so, so
excited." Fields, after the call, turns to walk into another room at his draft party and says: "Who would have thought Chicago? Whoa."
Two days later, Nagy calls Oregon cornerback
Thomas Graham Jr.
to inform him that the Bears are about to select him in the sixth round. Expected to be chosen earlier, Graham is unaware he's being taken and is still a little salty.
Nagy asks how Graham's day is going and he says: "Long, frustrating."
Nagy responds: "Long? Frustrating? Dude, you just got drafted in the NFL, bro."
After a brief silent pause, Graham realizes what has just happened and shrieks ecstatically, 'Hey, hey, ahhh!' His family, who has been watching the draft with him, erupts in celebration. In the draft room, Nagy first holds the phone up in the air and then places it on speaker for all to hear.
• Fields, as you'd imagine, is a focal part of the episode. Cameras are there when he arrives at O'Hare Airport early on the morning after he was drafted, during a visit to Soldier Field and at the Bears rookie minicamp.
"This has definitely all been a blessing," Fields said. "Just the tradition here, the history here, the pride here in Chicago is unmatched. I just love the energy already.
"I'm just glad to be a Bear and glad to be a part of this great city and great organization. Since I've been up here, I've enjoyed every second of it."