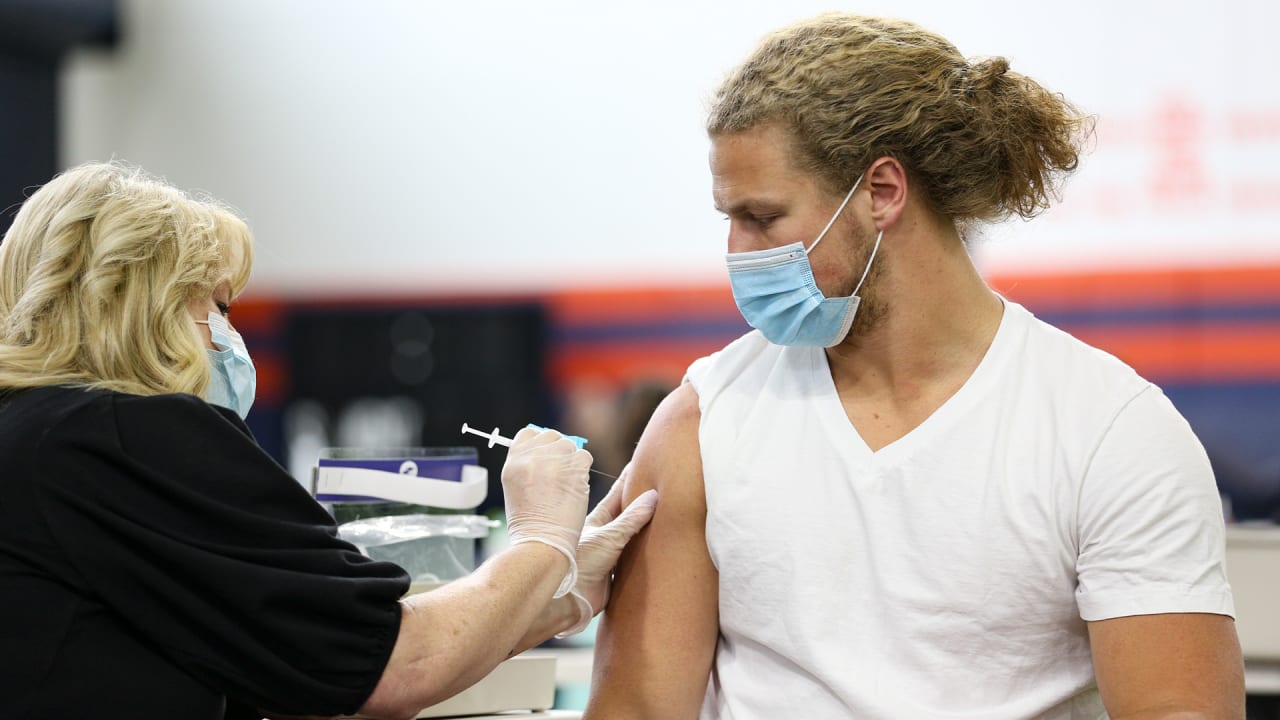 ENGLEWOOD, Colo. —
After COVID-19 vaccinations became available to the general public in early April, the Broncos joined with UCHealth on Wednesday to offer COVID-19 vaccinations to more than 150 members of the organization and their families at the Broncos' UCHealth Training Center headquarters.
And with cases increasing in recent weeks, the timing couldn't be more crucial, UCHealth Senior Director of Infection Prevention and Control Dr. Michelle Barron said.
"Getting a vaccine is so important right now," Barron said. "We're seeing cases starting to rise. We're in this race right now where we need to combat the COVID spread by getting a vaccine, and having the Broncos do this is just amazing. I'm so excited for everyone here today that is getting access to the vaccine. This vaccine still is probably the most exciting thing that we've seen in modern medicine in years or decades because of how safe it is, how well it works. And the opportunity to do this today and be part of this great team with the Broncos and to protect the community is just amazing."
Over the past year, Barron and Vice President of Strategic Initiatives Brittany Bowlen have helped guide the team's COVID-19 prevention efforts, along with the Broncos' Infection Control Officers, Nancy Svoboda and Steve Antonopulos. About two months ago, Bowlen, Svoboda and Antonopulos began to research and work with the state and governor's office to get this opportunity shortly after vaccinations became available to the general public. After that happened, the organization worked with Barron and UCHealth to help players, coaches and other staff members receive any information they needed to make their decisions.
"We are providing the information and the transparent information and the statistics in order for you to make the decision for yourself and your family," Bowlen said. "We believe that the safest option for this community is to get the shot, and I believe the league is also sending that message by requiring Tier 1 and Tier 2 staff who closely interact with the team to be vaccinated, unless they have a religious or medical reason. So I would say it's a strong message, but it's respectful of other people's choices."
There has been some hesitation nationwide regarding the vaccine, but with nearly 32 million Americans having contracted the disease and almost 600,000 having died from it, Barron said that the potential side effect of receiving the vaccine and missing a day due to fatigue is far outweighed by the potential illness and aftereffects from catching COVID-19.