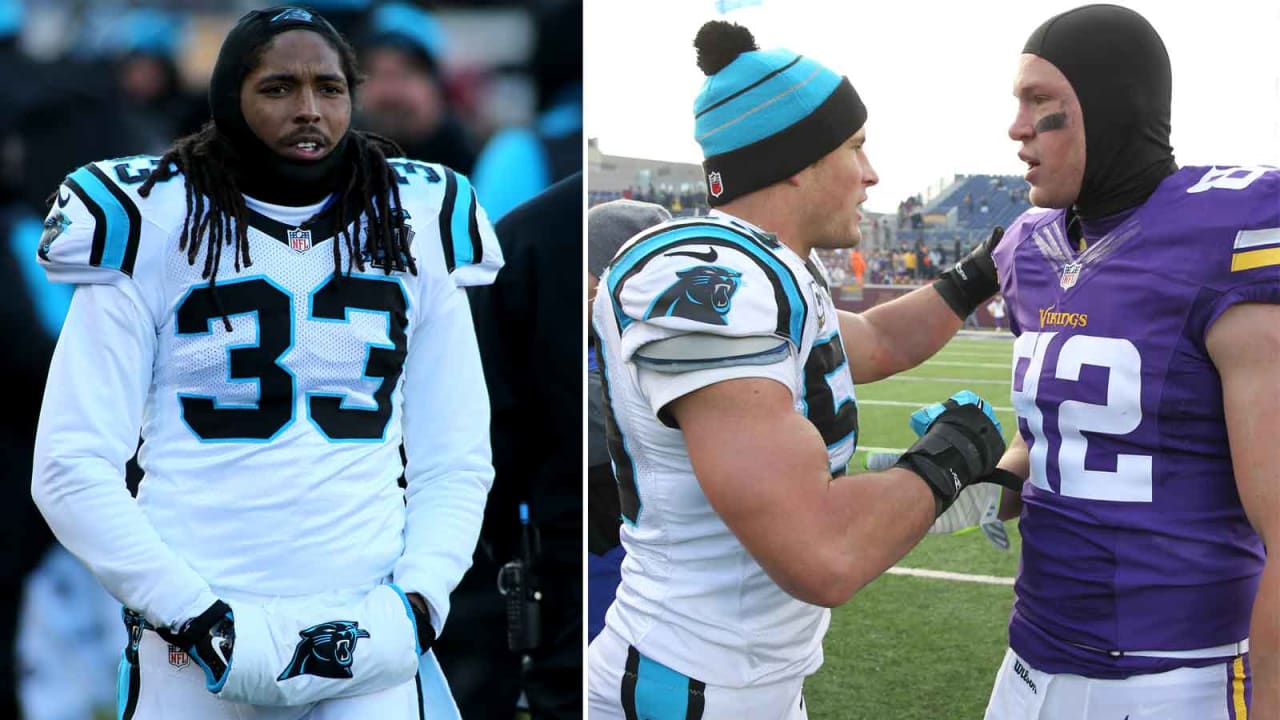 But Kuechly, the tough guy he is, didn't even wear sleeves that day.
"I don't know if that was a great decision," he joked.
That decision did allow him to keep his impressive sleeveless streak intact.
"Yeah, I have worn sleeves," Kuechly said, "but it was back in my freshman year of high school."
Punter Michael Palardy also has a sleeves story. It was Senior Night at Tennessee when the Volunteers were hosting Vanderbilt.
"We weren't allowed to wear sleeves. It was probably low 20s and a little windy, too," Palardy recalled. "We didn't have heated benches. We had those small circle heaters on the sideline, but that would burn the hair on your leg and you could only get one leg hot, you know?"
Is Palardy planning to go sleeveless in Green Bay? That would be a hard no.
"To be honest, I'm not trying to intimidate anybody," Palardy said. "I like to stay as warm as I possibly can."
Kicker
Joey Slye
has a little bit too much experience standing next to those sideline heaters that used to burn Palardy's legs. During a game in South Bend against Notre Dame in 2016, Slye placed his helmet next to the heater to keep the pads from turning rock solid. Turns out that was a big mistake.
"I was warming it up and we were getting ready for the go-ahead field goal," Slye said. "I was waiting, waiting, waiting, then they called field goal and I ran out and put my helmet on and I'd burnt the ends of my chinstrap and it was burning my chin. I put it on, I could feel it and I thought I was going to burn my beard off."
Slye made the kick, but his facial hair suffered. At least he'll know better on Sunday.
Wide receiver
Brandon Zylstra
has plenty of memories of cold weather games, too. After all, Zylstra spent a large part of his career in the frigid temperatures, playing collegiately in Minnesota before stints with the Canadian Football League's Edmonton Eskimos and the Minnesota Vikings.
"I've played in a few blizzards up in Canada, one I think we got like six inches of snow. The coldest was probably in the teens, 10 or 12 degrees maybe," Zylstra said. "I always tell people it's not as bad as it seems, just because the teams do such a good job of providing parkas, having heated seats, the fire and stuff. Even for guys that don't play that much, you'll survive."
Not all of Zylstra's teammates are buying that, though. Rookie edge rusher
Brian Burns
grew up in South Florida before playing his college ball at Florida State, so it's safe to say he's never played in cold weather, much less the snow.
So how is he planning to handle his first exposure?
"Block it out. Just block it out," Burns said. "At the end of the day weather is weather, you still have to play ball. We're going to have thermals and what not. Trust me, I'm going to have those on, but just block it out."
Not everyone is dreading the cold, though. Edge rusher
Bruce Irvin
is actually looking forward to it.
"I love it. That's football weather," Irvin said. "Cold in Lambeau Field – that's how it's supposed to be, right? Alright then. Good."