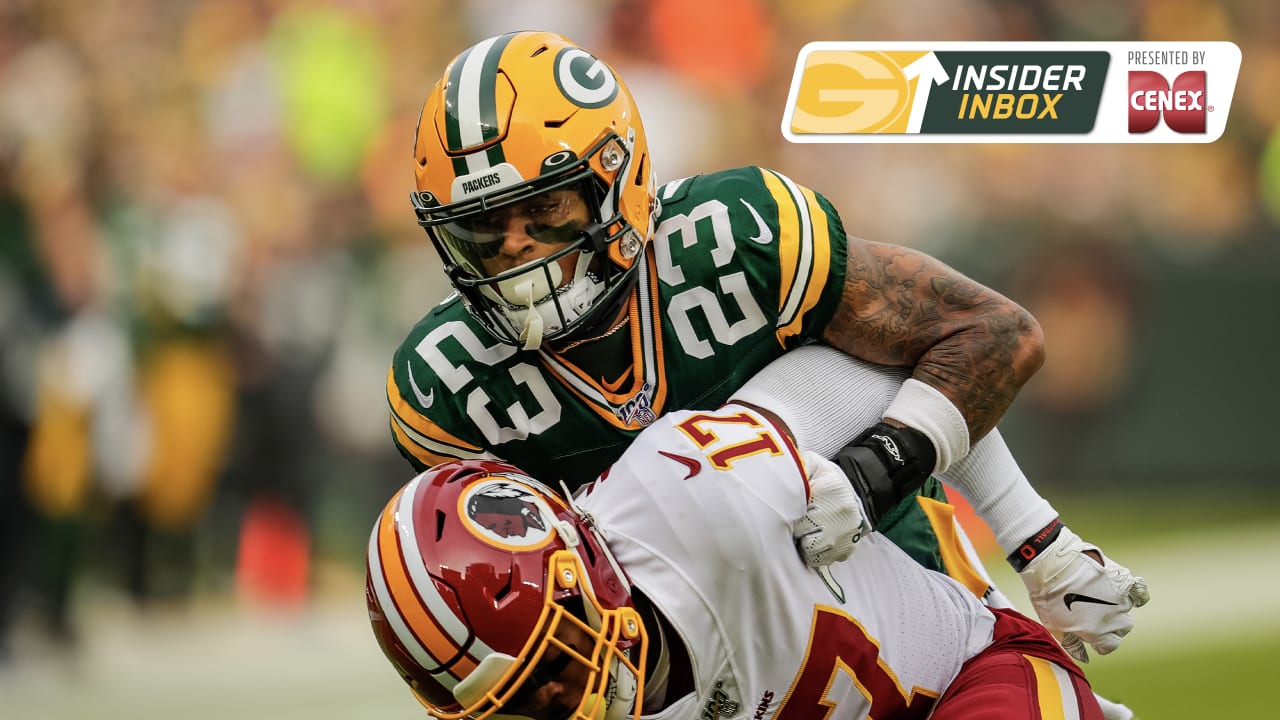 James from Mount Pleasant, WI
Will Jaire Alexander shine this year?
Time for the next step is now.
Bill from Maple Grove, MN
How much impact do agents have on the players? Does the agent tell the rookies to study the playbook religiously? Does the agent encourage the player to work out in the offseason? Does the agent tell the player to work hard?
If a player has to hear any of those things from his agent, he doesn't stand much of a chance.
Eric from Oshkosh, WI
Regarding a two-TE, three-RB set for a two-point conversion, I get the intrigue, but if I'm a coach there's no way I'm taking our best offensive threat off the field so I can run an interesting formation. Taking Davante Adams out at the goal line is like when ATL pulls out Julio Jones at the goal line. It never makes sense to me. He's your best player. At least make the defense stressed having to account for him. Is there something schematically I'm missing?
There is such a thing as getting too cute, and you weren't the only reader with this reaction.
Tom from San Juan Capistrano, CA
With all of the drop submissions impacting the Packers, it got me thinking of the biggest drop in NFL history. It has to be the Jackie Smith drop in Super Bowl XIII doesn't it?
In my lifetime, I can't think of another that would rank higher.
Scott from Vienna, Austria
Regarding biggest offensive drops, I think Antonio Freeman's drop in the Super Bowl loss to Denver with under a minute left with the Packers in Denver territory was huge. If he catches it the Packers have four downs in the red zone to tie the Super Bowl and send it to overtime.
I went back and looked at it, and that's a tough one for me to grade as a drop. Freeman was between two defenders, and Darrien Gordon got a hand in there it appeared, so it wasn't an opportunity for a clean catch in my opinion.
Andrew from Big Flats, NY
Can the Green Bay economy survive a year without football? Other cities would miss and certainly suffer economic hardship if the season were lost, but I can't imagine how difficult a cancelled season would be for the city of Green Bay.
A season without fans, or with less than a full Lambeau and without people able to pack the sports bars, etc., would deal a huge economic blow to the area. There are some hotels and restaurants that depend mightily on the eight regular-season home games and all the traffic and business they generate. I feel for those business owners and employees, who have already suffered since March.
Mark from Bettendorf, IA
If you could draft ANY player all time to play in today's game, who would that be?
Jim Brown.