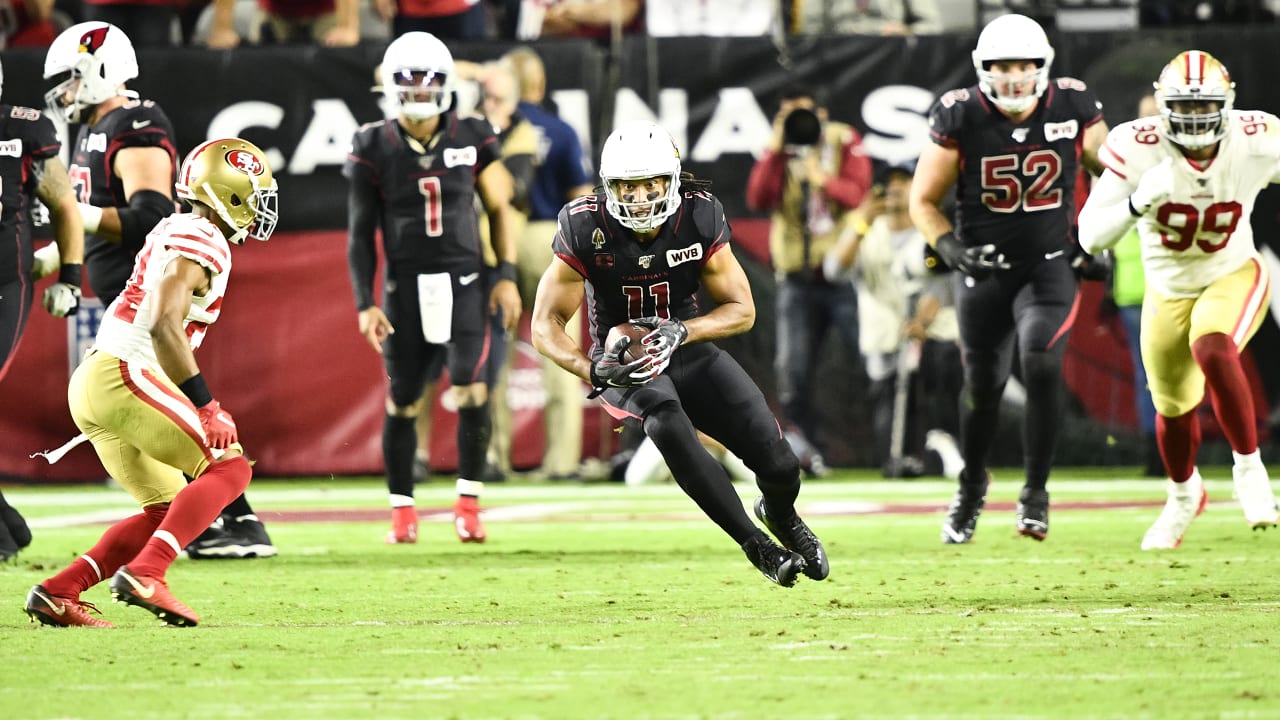 Heading into the 2013 season, outside receivers reigned supreme in the NFL.
Stars like Calvin Johnson, Andre Johnson, Brandon Marshall, Dez Bryant and Larry Fitzgerald made their living out wide, so it was a surprise when Bruce Arians came to Arizona and shook things up.
He moved Fitzgerald to the slot, and needed to sugarcoat the switch to get his star pass-catcher on board with the idea.
"He told me there were 100 balls a year in there, so I told him, 'I'm good with that,'" Fitzgerald said Thursday with a laugh.
The slot receiver position has only gained in importance in the ensuing half-decade, and it is going to play a critical role in the Cardinals' contest on Sunday against Arians and the Buccaneers. The Cardinals' two best wide receivers, Fitzgerald and Christian Kirk, reside in the slot, as does Tampa Bay star Chris Godwin.
Cardinals coach Kliff Kingsbury – who spent a second-round pick on 5-foot-9 slot receiver Andy Isabella in April – routinely weaponized the position in college and has seen it become a hot commodity at the professional level.
"In this league – I'm still kind of figuring it out – I know spread offenses are getting more and more prevalent, and that's a position that's a big part of it," Kingsbury said. "Being able to get those guys in space and turn three-yard completions into big plays. College football has been doing that for quite some time, and it's starting to be more prevalent in the league."
Godwin is fifth in the NFL with 766 receiving yards and has six touchdowns. The Cardinals will be without nickelback Tramaine Brock (hamstring) on Sunday, so their ability to contain Godwin will be under the microscope. Kingsbury didn't specifically say who would guard the slot, although the most likely candidates seem to be Kevin Peterson and Byron Murphy.
"Kevin Peterson will play more," Kingsbury said. "We'll have a rotation going, but he will definitely play more."
Godwin was mostly an outside receiver in his first two seasons with the Buccaneers, but it was an easy sell to get him into the slot. All Arians had to do was point to the success of Fitzgerald, who averaged more than 1,000 receiving yards per season during Arians' five-year tenure in Arizona.
"He solidified my career," Fitzgerald said. "When he got here, people were saying I was done, in '13. To be able to do what I was able to do under his tutelage, and just believing in him, and putting my complete trust and confidence in him. He never lied to me one time, and we were able to do some really good things together."
Continue reading...