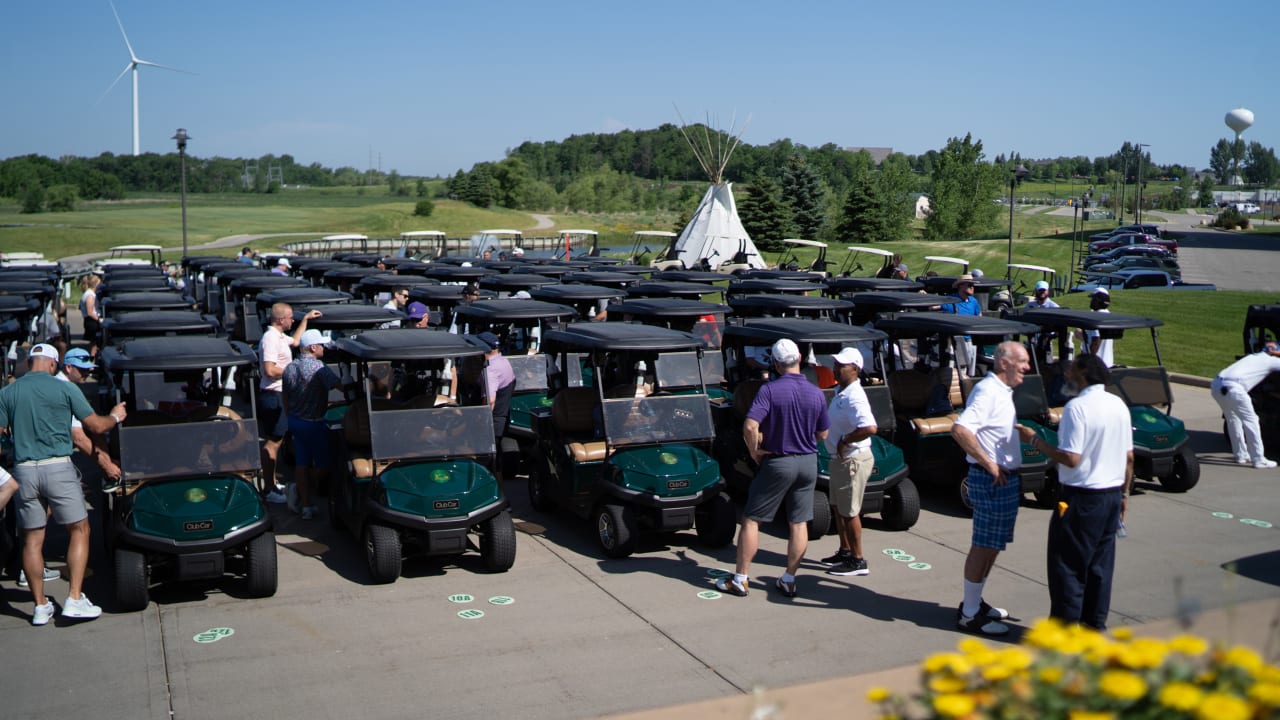 The pandemic caused the postponement of last year's event and reduced the field of participants, continuing a challenging year for nonprofits like the Minnesota Vikings Foundation and those needing help from philanthropic efforts.
Vikings Table pivoted last year to continue making a difference while abiding by protocols and found ways to serve more than 16,000 meals. Going forward, Taber said, the plan is to return the programming that accompanies the free meals.
"We're excited to be delivering those free meals to the community, but after the pandemic is over, we're excited to really ramp up our programming," Taber said. "We're able to be back in person, delivering the education along with the meals so kids can learn more about nutrition and will have a chance to see our players in person, giving them those meals. Those are some of the things that we're excited to bring back in the coming year that are going to make this program better for years to come."
Tight end Steve Jordan, who entered the Vikings Ring of Honor in 2019, returned to Minnesota from Arizona to participate. He and fellow Ring of Honor member Joey Browner reconnected while riding together for 18 holes.
"It's really special to spend time with our guys and certainly the guys that you played with," Jordan said. "Joey and I go way back. He was [a rookie] a year after I got here."
"We put in a lot of time, working together and also competed against each other in practice, which was iron sharpening iron, frankly. I think that's what drove us to some of the successes we had individually and then collectively as a team, so it's really special to get together," Jordan added. "We're now old dudes and can come out and play, raise money and have fun."
The 2021 event marked the fifth year that the tournament presented by Molson Coors has been hosted by The Meadows at Mystic Lake. DIRECTV and others also sponsored the event, while SHEELS, Molson Coors, Little Six Casino, Mystic Lake and Viking Lakes hosted special games with prizes at different tee boxes, putting extra fun in fundraising.
"Lots of great things have come through [hosting the tournament] over the years," Mystic Lake Vice President of Marketing Alison Fogarty said. "We weathered COVID, which was a challenge, but we did it well and did it together.
"It's really nice to see everybody coming out to support the foundation," Fogarty added. "At the SMSC (Shakopee Mdewakanton Sioux Community), we do a lot to support charities in the area. It's so nice to partner with a foundation and an organization that takes charity seriously."
Molson Coors Field Marketing Manager Tara Hanson said sponsoring the golf tournament for more than 15 years has been a way to make a continued impact locally.
"It's important to us. We're Minnesotans. We work here; we live here," Hanson said. "Our distributor partners in our three-tier system work here and live here, so it's really important for us to get the opportunity to give back to the local community in a really fun and exciting way.
"We've been working a lot with Vikings Table lately," Hanson added. "We understand the concern around hunger and food insecurities, so we're excited to be part of the foundation and give back."
Hall of Fame guard Randall McDaniel, who has made his home in Minnesota after his career, said he looks forward to helping each year.
"The foundation does such great work for the youth," McDaniel said. "Minnesota is my home, and wherever you're at, you want to give back and get out in the community and make a difference. You see the Vikings, and that's where it all started for me many moons ago, 'Community Tuesday, get out there and do some things,' and it just continued on for the 30-plus years that I've been in Minnesota."
Vikings Chief Operating Officer Andrew Miller said he's come to expect such support from Vikings Legends and continues to appreciate the way they add to the franchise's legacy.
"It's one of the things I learned pretty early on with the Vikings — we had the 50th anniversary of the 1969 team in my first month in Minnesota. Seeing the impact that our players have had since 1961 and the camaraderie and relationships that they still have when they're together, it's a really special thing and unique to the Minnesota Vikings," Miller said. "Our Legends are very involved. They're an important part of who we are as an organization and as a franchise. It's really special and something that we don't take lightly. We want our Legends to feel a part of us; they've really shaped who the Minnesota Vikings are over the course of six decades."
Miller credited the Vikings Social Impact Department and Vikings Table for adjusting to continue helping the community despite some limitations. He said the participation level at the tournament was encouraging as the Vikings prepare to welcome fans back to U.S. Bank Training Camp and U.S. Bank Stadium for games this fall.
"That moment when our team takes the field and we're hearing the 'SKOL Chant' in September [at the regular-season home opener] is going to be unlike anything we've ever experienced," Miller said. "It's been such a loss for all of us to not have that outlet and not have that opportunity to see live sporting events. For people to come back and to have 67,000 fans standing there, making noise, we can't wait to have that. Training camp is starting pretty soon. We're going to have fans back and just can't wait."