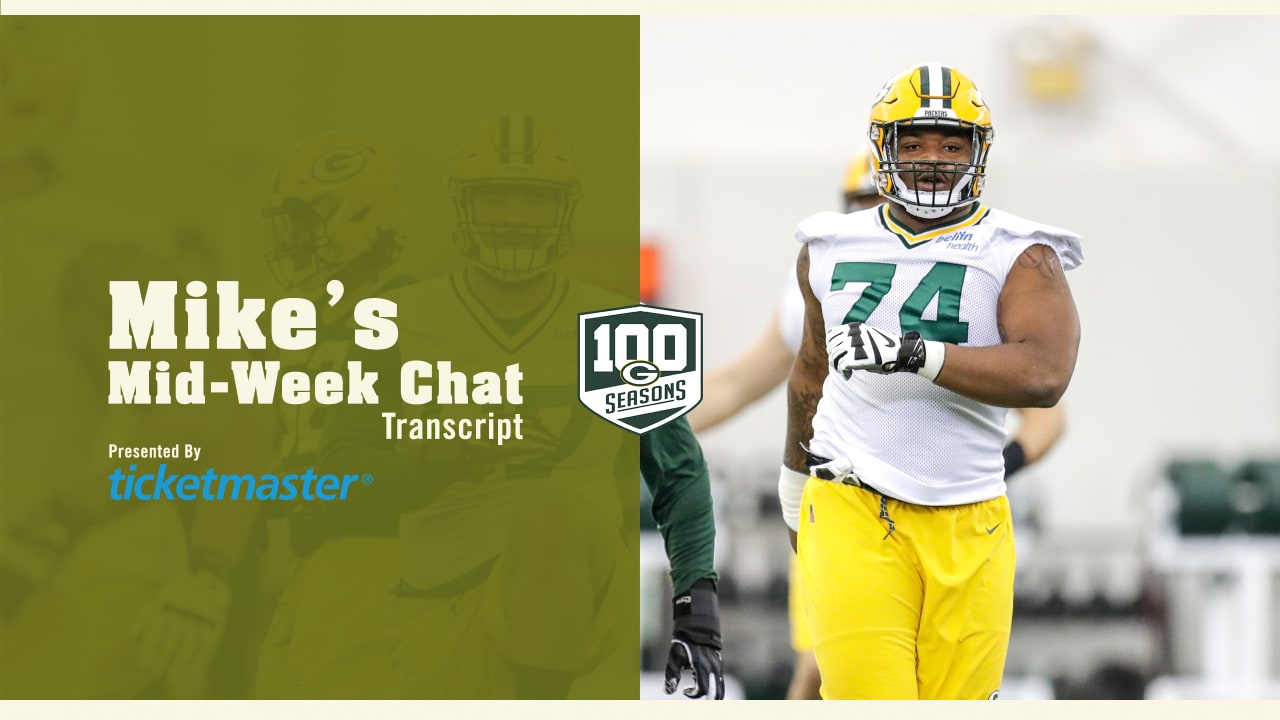 Hey Mike!! Do you have any ideas as to why all of this "organizational dysfunction" is all over the media right now?
Some have questioned the change in the organizational structure from the beginning, and a rough season last year wasn't the way things were supposed to go. The only way for the organization to quiet the criticism and skepticism is to win. That's all. Otherwise, everyone will be looking for reasons and things to blame. That's just part of the deal.
Have to feel like this season is one of success waiting to happen.
I wouldn't complain. We were a bit spoiled with eight straight playoff appearances, but the last two seasons have been difficult for sure.
Hey Mike, because of the new coach. Does training camp start earlier? If so, how much earlier?
No, training camp starts at the same time as usual. The league allows teams with new coaches to start their offseason programs two weeks earlier in April if they want to, adding an extra voluntary veteran minicamp. The Packers chose to start one week earlier in April, because if you go two weeks earlier, you actually have to give the players a week off somewhere in the middle, so it's really only one extra week however you slice it. LaFleur wanted to start the offseason program and go all the way through to mid-June without a break, so he started on April 8.
Thoughts on Clinton-Dix being a bear and Amos being a packer?
It's going to add an extra little storyline to the rivalry this season, and it becomes a bigger story if one of them makes a big play or something, but otherwise, I look at it as pretty much business as usual in the NFL.
Hi all from a sunny Georgia - the country, not the state.
Question about the pre-season: with this being the first season in MTF new offence, do you expect the designated starters to play more than in seasons past?
This is a popular question, and I don't know how LaFleur is going to approach it. I'm sure he's going to get asked about it plenty this summer, too. The problem is defenses run such basic stuff in preseason games it's questionable how valuable the work is in the preseason games on offense for a veteran QB like Rodgers, even if he is learning a new system. I think that's why LaFleur arranged to have the Texans come to GB and practice for a few days in camp. Those practices against another defense will likely be more valuable than a preseason game, when teams are concerned about what they're putting on film.
Who do you hang out with on road trips? I imagine it can get pretty lonely, so you must have dinner with coworkers or players and coaches? Would love to hear about your road life!
If I'm in a city where I have friends or family, I always make a point to visit them. Otherwise, I honestly keep to myself a lot or have dinner with co-workers. Nothing too exotic, honestly. I try to use hotel time to actually rest up and take a break, not be on the go all the time.
Is there any reason that you can think of that Jordy's number wasn't used last year and Clay's is? Clay's comment was certainly sarcastic.
I'm gathering based on the comments from the rookies that they were asked their preference on possible uniform numbers, and Gary and Sternberger had a liking for 52 and 87, respectively. I can't speak to why 87 wasn't assigned to anyone last year.
Who would you like to see win the Stanley Cup this year?
Can't say I have a preference, but I'd love to be able to watch a Game 7.
Hey Mike, let's say you were forced to call plays for a series, do you think you could handle it?
Not a chance. I'd just tell Rodgers to run what he wants.
What position will be the most competitive in camp?
I think the competitions at RB, WR and O-line are all going to be interesting to watch. How does the RB depth chart shake out after Jones? Does Allison hold onto the No. 2 WR spot or does a younger guy challenge him? Will Jenkins push Taylor at LG, and how do things shake out with Turner (I'm assuming RG)? All intriguing questions on that side of the ball.
Mike, have you ever considered doing radio color commentary for Packers games? You certainly have the pipes and knowledge. I think you'd be a great addition to the broadcast!
That would be a kick, but I think Wayne and Larry have that covered, and covered very well.
Football Outsiders published an article relating injuries rankings per team. Packers trend in finishes from 2014 through 2018 were 3rd, 9th, 15th, 21st and 21st. Looking at team performance it correlates pretty well for us and the league in general.
Not surprising in the slightest. For the Packers to overcome the injuries they had in 2016 and make that run to be one of the last four teams standing was pretty impressive, all things considered.
When's the last time you've gone fishing and did you catch anything?
I'm headed out over Memorial weekend with my father-in-law. Fingers crossed.
Hey Mike, what do you think of the new pass interference challenges. I think coaches will hold on to there red flags to the end of the games now. And would the last 2 minutes be under review by the referees for P.I. also.
I think we're definitely going to see some more discretion on the part of coaches with regard to using their challenge flags early in games. The last two minutes, everything will come from the booth. But is the spot of the ball on third-and-short in the second quarter, for example, worth a challenge when you might want it for that deep ball and a possible PI midway through the fourth quarter? It's going to be interesting.
I saw that (I can't remember where) Josh Jackson could potentially be converted to a nickel-lb. Have you heard any stirrings about that?
I've heard nothing along those lines. I expect Jackson to be playing CB.
With injuries so tightly correlated to season performance, does it throw water on the idea of getting starters more pre-season time whether it is a new coach/system or not?
I think any coach has to find the right balance, and for LaFleur it may depend on how he feels things are going in practice during preseason games. Remember, he can ask Pettine to dial up all sorts of blitzes and crazy looks in practice and have his offense work against that. He won't be able to make those suggestions to the other defensive coach in a preseason game.
Will all three practice fields be ready to go for training camp? I'm thinking they might need all three when they host joint practice with another team. Any new info on that?
Haven't heard what the plans are there.
Hi Mike, I never been to a Packer game. What would be the best first game for me to go to?
If you're talking Lambeau Field, I'd say any, but if you want to get fussy, a Bears or Vikings game would probably be the best first choice.
Can you give an example of football IQ and what exactly players are talking about when they say that?
I've always understood it to mean players who understand the big picture, not just their own particular assignment on a play. There's knowing what you're doing, and there's knowing what everybody else is supposed to be doing, and why. Some guys can process at that level, some can't, some learn to over time.
Is Rashan Gary as impressive in person as Julius Peppers was?
Gary is a big dude but Peppers as a physical presence was just something else.