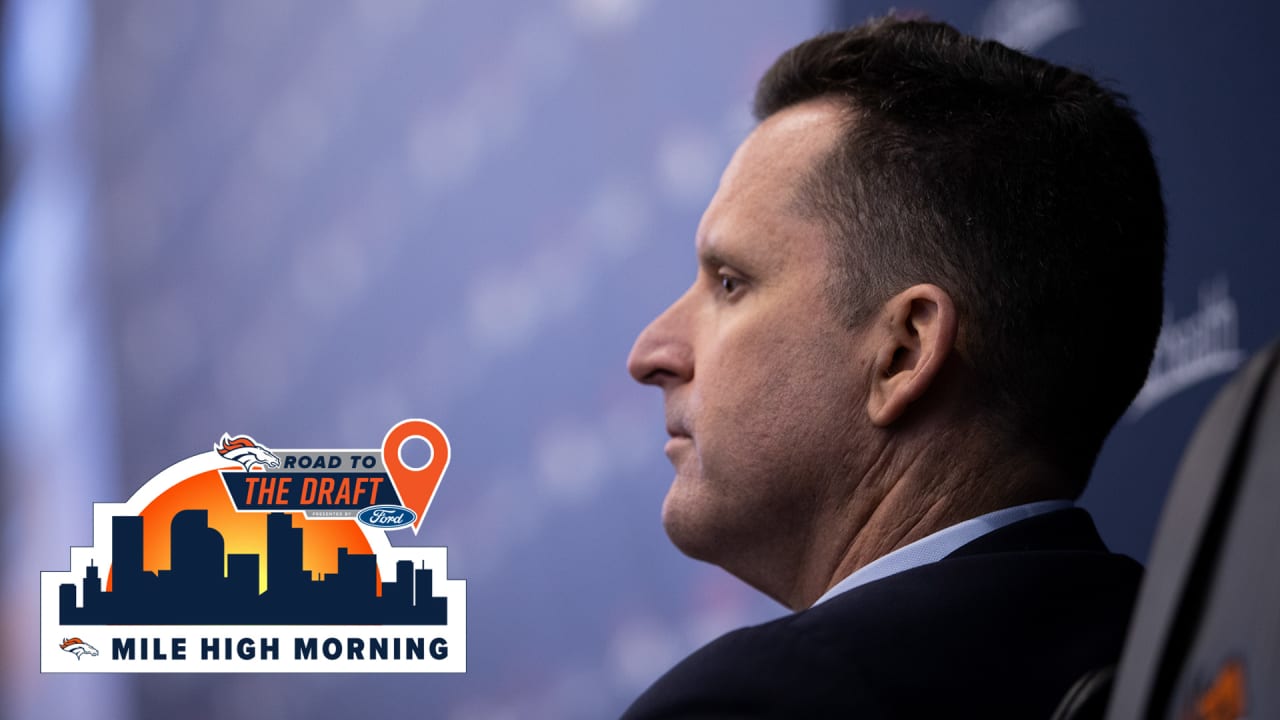 The Lead​
With little more than a week until the draft, George Paton and his scouting staff are deep in their pre-draft meetings debating specific prospects. Done behind closed doors, the conversations are top secret.
But Paton gave Broncos fans a glimpse of what his first draft process as a team's general manager has been like through a conversation with The Denver Post's Ryan O'Halloran published on Monday.
"It's a really good process," Paton told O'Halloran. "I've been really impressed."
The part of that process that he's currently in — the aforementioned debates — can be lengthy, as Paton recalled in a story about one particular prospect who went unnamed.
"Then the debate started … and continued … and progressed," O'Halloran wrote. "For nearly an hour, the player's pluses and minuses, ceiling and medical history, suitability and make-up were dissected."
These conversations come after months of scouts working on the road and, more recently, weeks of traveling to observe prospects' pro day workouts, which have taken on more importance after the 2020 NFL Scouting Combine was cancelled because of the COVID-19 pandemic.
Though these workouts are heavily discounted (players are not wearing pads, nor do the football drills feature any offense-vs.-defense action), Paton says they still are valuable for pro evaluators, specifically when watching quarterbacks.
"It's so much different than tape," Paton told O'Halloran. "How does the ball come out of their hand? How fast do they spin it? Are they poised? How do they handle the pressure?
"The Pro Days I went to, the [quarterbacks] had a lot of coaches and a lot of GMs watching. When they make a bad throw, did they let it get to them? Were they emotional? Did they get fazed? There is just so much you can see. We didn't see a lot of these guys live this year so it was important to see them at their Pro Days."
However, don't expect to get any big hints at what the Broncos might do with the ninth-overall pick.
Paton told O'Halloran that he's fielded calls from teams looking to trade up and one team looking to trade down, and said that he expects it to only heat up more when the week of the draft arrives. At that point, he'll do what he feels is best — whatever that decision is.
"We feel we're in a good spot," Paton said. "There is going to be a really good, impact player [at No. 9] and we have the flexibility with the draft capital we have to move up or move down."