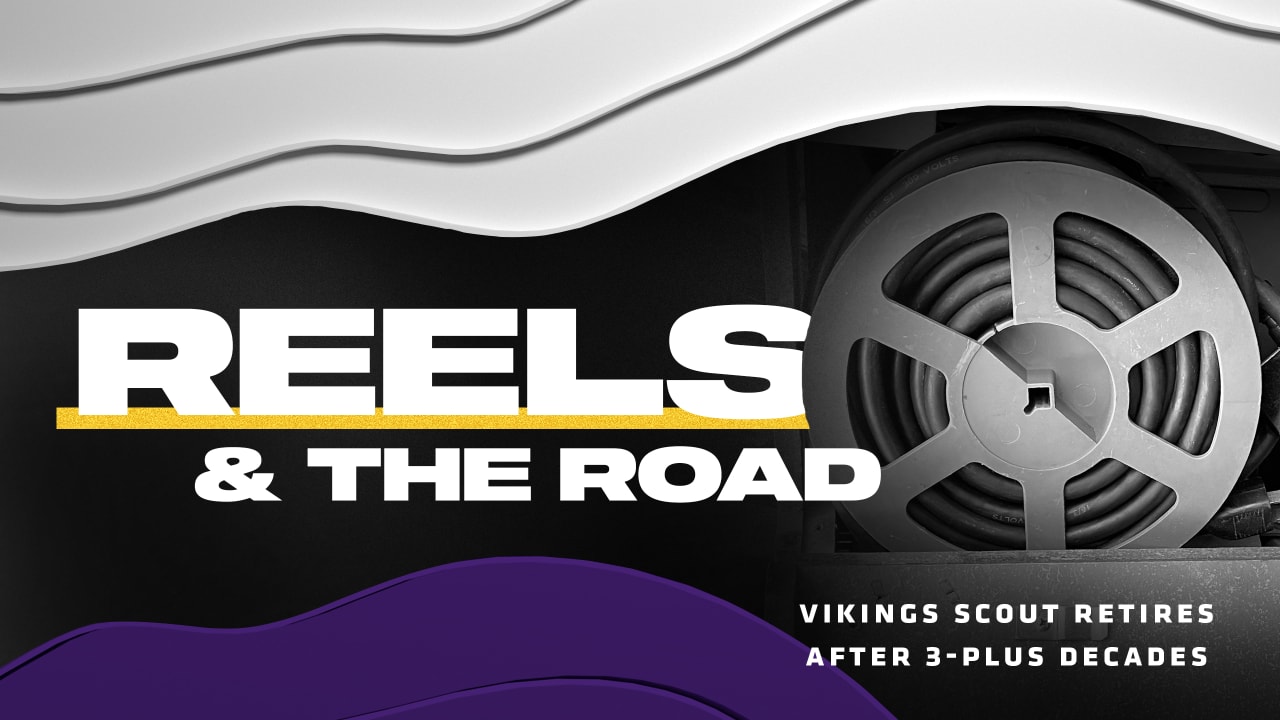 Removed from the moment of trying to get things done on his time, Studwell said Cardano was "certainly a true professional."
"He had lots of contacts in all of these schools that he would go into," Studwell said. "He had created them over the years; regardless of the area he worked in, he was very well-known from all of the staffs that we visited.
"He was very thorough, very cordial. He's a very likeable person, number one, very polite and respectful. I think all of the schools that we went into appreciated that from him," Studwell added. "He's an easy guy to like, an easy guy to get along with. He was very patient when you'd go into a school, very respectful of their rules, and not everybody was that way. He certainly set the bar for me, and we were a little different. I'm wired differently than Conrad is. I was always in a hurry, whereas he was very patient. We got the same amount of information, typically, but we got it in a different way."
In addition to bringing along younger scouts, Cardano also enjoyed a particular trip to the University of Montana with Reichow.
"They didn't really have many prospects. They had some young kids that may become prospects, so I met him there in Missoula, and we went to practice in our fishing outfits, our waders and stuff," Reichow laughed.
Grizzlies Head Coach Don Read didn't seem to mind.
Reichow recalled: "He walked over to us while we're watching practice and said, 'You guys going fishing?' We said, 'Yeah, after practice.' He said, 'Is [assistant coach Bob] Beers going with you?' 'Uh, yeah, we talked about that.' "
Trout fishing creeps into the mind as one gazes at the adjacent Clark Fork River during practice lulls.
"The coach actually moved the drills over closer to the river, a great trout stream," Cardano said. "That was an exception because all scouting is not like that."
Reichow added: "[Read] hollered and said, 'Beers, c'mon over here, and you guys go fishing. We don't have any prospects. Get out of here and go fishing.' So we had a great time out there, and everybody loved Conrad, so we could do that."
Beers later became an NFL scout for the Broncos, Lions and Texans before retiring in 2016.
Not every trip flowed as smoothly or featured those posh Vegas accommodations.
One year, Cardano went roughly 250 miles from the University of Colorado in Boulder over the mountains to Mesa State (now Colorado Mesa University) in Grand Junction. Up next was a small school in Durango, a trek that included the harrowing Million Dollar Highway with three mountain passes that are at more than 10,000 feet of elevation.
Cardano hit a bad snowstorm with icy roads and called the coach, who assured him that six players would be ready for measurements and a workout.
"So I pulled into a hotel. I think it was $14.50 that night, had one light in the middle of the room that you had to pull a string to turn on, and you had to light the kerosene heater in the room," Cardano recalled. "It was freezing cold when I got in the room. It was a bed and a bathroom, and that was it.
"I woke up the next morning, and it was 18 inches of snow on my car. I traveled six hours. It was hairy going over the mountains and everything," he added. "I got to the school, and five of the kids were sick and did not work out. There was only one, and he was one that I didn't care less if I got anyway. That's the kind of thing that could happen to you back then."
Cardano nearly "met" Spielman for the first time back when he was an assistant Eastern Kentucky and the future Vikings GM was playing linebacker at Southern Illinois, but a loss in the playoffs by the Colonels prevented a game with the Salukis.
Instead, their initial encounter occurred after Spielman was a green BLESTO scout for Detroit, just beginning his career climb. In addition to evaluating prospects, Spielman also wanted to absorb everything he could from the personnel pros.
"You kind of gravitate toward guys that are respected in the business, and me as a young scout, trying to learn from him and ask him questions, even though I was with another team, on how he does this or makes contacts," Spielman said. "Back then, I was just trying to figure out how to get to the schools because we used road maps.
"I tell all the young scouts, we tell stories, and they think we're from Mars," Spielman added more than 30 years after his first forays. "The first thing you bought was a road atlas of the United States, and you had to map out how you were going to get there. It wasn't all of the superhighways, either. Bare-knuckle scouting."
Spielman absorbed knowledge from Cardano and Studwell and applied it for the next decade-and-a-half, becoming the Vikings Vice President of Player Personnel in 2006 (and GM in 2012).
"I remember when Rick broke into scouting because he was out of BLESTO and had to give his reports like some of the other guys. You could tell that Rick was very detailed," Cardano recalled. "You could kind of tell that he was going to move up quickly. He is really highly organized and does a great job, but I remember when he was a young scout."
Spielman ventured on the road with Cardano once. It was memorable and has grown over the years like a harmless "big one" fish story.
After wrapping their work at Georgia's Pro Day, Cardano drove to dinner and Spielman typed reports in the back seat. Cardano had a nice restaurant in mind that had previously met his approval. He spotted it but turned wrongly onto a two-lane, one-way street, resulting in a fender-bender.
"It went from a fender-bender to the jaws-of-life having to take us out of the car, to they shut down the entire city of Athens, to maybe the worst car crash in American history," Spielman said with a laugh. "It's amazing how the story grew from a fender-bender. It just got bigger every year we talked about it."
Cardano emphasized that "the rental car company didn't even charge us," but according to Rick "he had to put his neck in a brace and the helicopters came in and the police and the crowds just joined around the side."
"He was not so hurt that he couldn't eat his meal in five minutes at a very nice restaurant," Cardano said. "I'm sitting down, just ready to relax after all of the hullabaloo outside with the accident, and the next thing I know, he's done. He eats quickly, and he gets it everywhere."
The University of Florida was next, and Spielman hopped back in the back seat to do some more reports, but Cardano recalled Spielman dozing off for a couple of hours on the way to The Swamp.