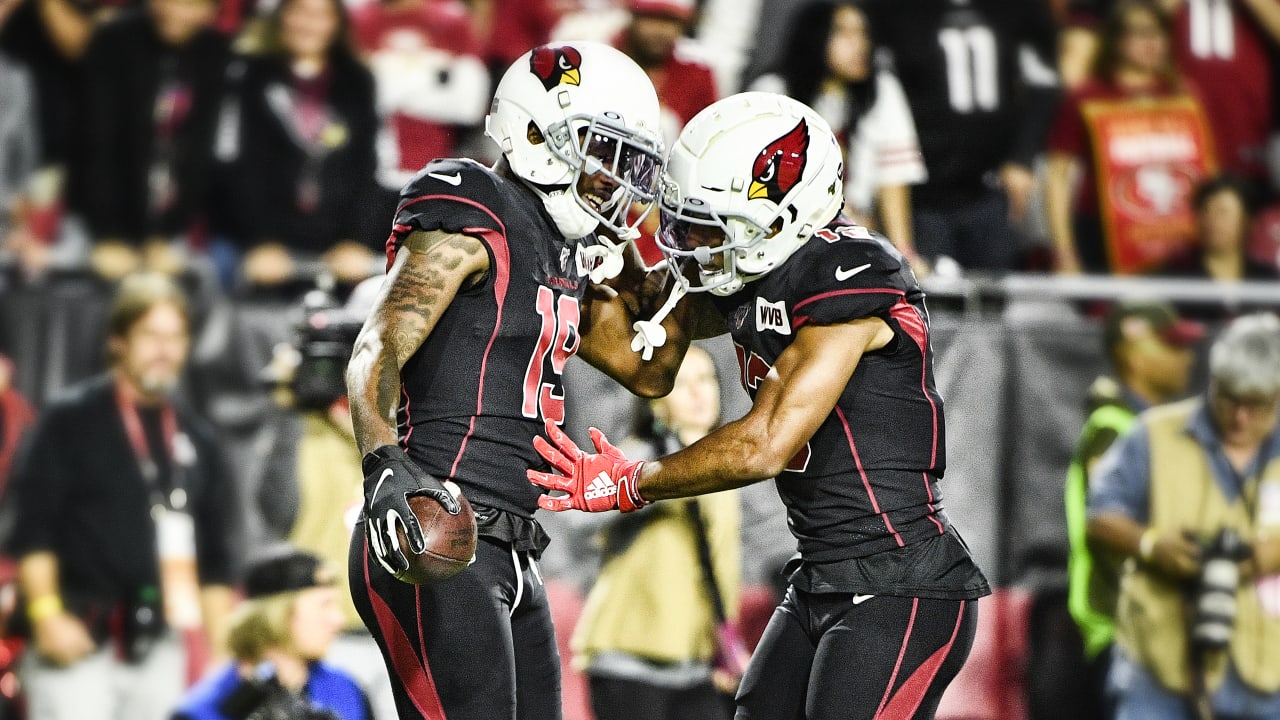 Andy Isabella and KeeSean Johnson shared a hotel room for several months this offseason, where they would sit on their beds and dream big about their NFL future.
Those goals did not become reality in the first half of the season, as the rookie receivers struggled to find substantial roles in the Cardinals' offense. Early this week, coach Kliff Kingsbury made it clear the duo would have its chance on Thursday night against the 49ers, and both came through.
Isabella and Johnson each snared their first career touchdown catches, which helped keep the Cardinals close in a 28-25 loss to the 49ers.
"You go through a whole journey with a lot of ups and downs, twists and turns," Isabella said. "I think what me and KeeSean have done so well is keep fighting. We show up every day and put in the work. It paid off tonight for us."
Isabella, a second-round pick in April, was barely used early in the season, and even against San Francisco was not on the field a ton. But he came up with the biggest play of the night, catching a pass from quarterback Kyler Murray, sticking his foot in the ground near the sideline and sprinting up the field for an 88-yard touchdown.
The score brought the Cardinals to within a field goal late, and while the offense never got the ball back, it was a play Isabella will never forget.
"It was kind of a surreal moment," said Isabella, who thinks Larry Fitzgerald hid the football he hopes to keep as a memento. "I think I was taken back down to earth when Larry and Christian (Kirk) tackled me."
Johnson, a sixth-round pick, had a great training camp and began the season as a starter but watched his snaps dwindle in recent weeks. He was a healthy scratch last week against the Saints.
"Going out there and not being able to not be in the game, it kind of hurt," Johnson said. "It was only motivation, though."
Johnson dropped an early pass against the 49ers but did not sulk. He hauled in a 9-yard touchdown pass from Murray early in the third quarter to pull the Cardinals to within 21-14.
"In the heat of the moment I wasn't really thinking about it (being his first touchdown), and it still didn't hit me when I was in the end zone," said Johnson, who finished with two catches for 22 yards. "And then after awhile, it's like, 'You've got your first NFL touchdown now.' My dad, I gave him my first ball in college, so I went to him and gave him my first one in the NFL."
Continue reading...