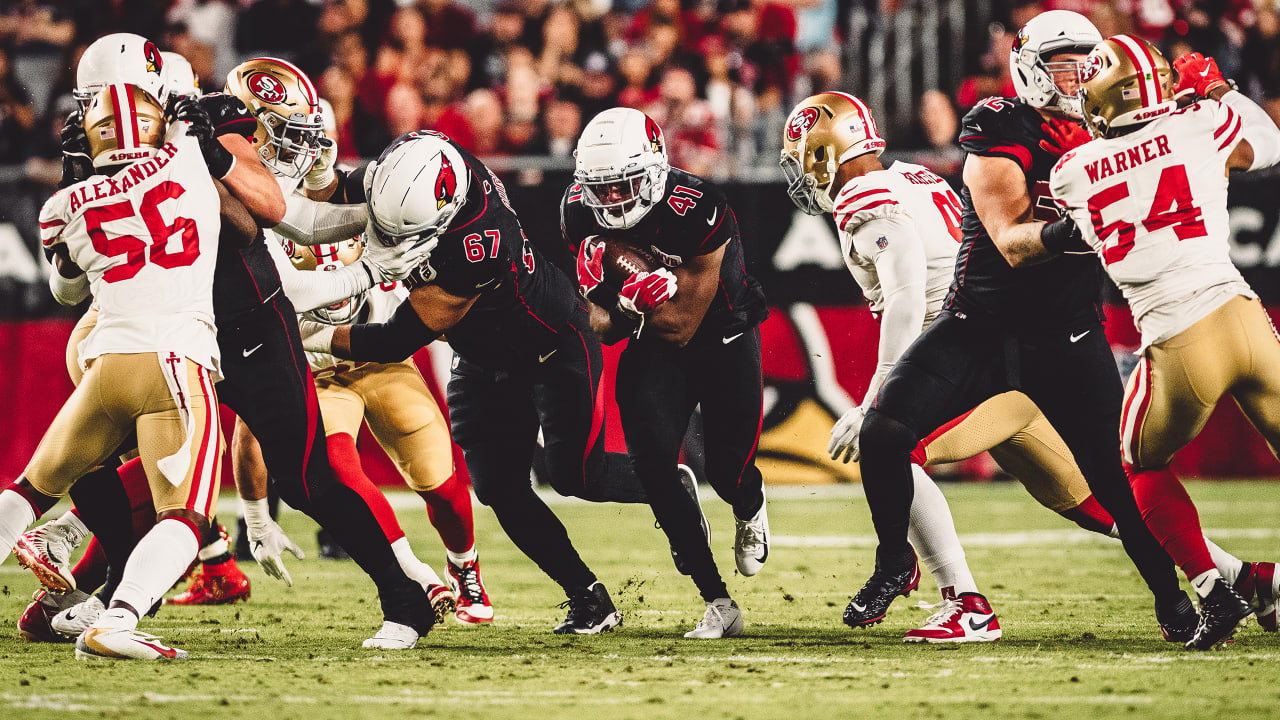 SANTA CLARA, Calif. -- Kliff Kingsbury rued missed opportunities during his coaching days at Texas Tech, aggravated in hindsight when the right call against the right opponent remained unused on his play sheet.
In college, he had to wait a year for redemption, but divisional games in the NFL allow for quicker atonement.
The Cardinals face the Seahawks, Rams and 49ers twice every season, and Kingsbury will get his first NFC West double-dip on Sunday against San Francisco -- only two weeks after the first meeting.
If Kingsbury holds any regrets from the 28-25 loss in Week 9, he can aim to rectify them Sunday.
"Usually that's an offseason deal, where you're watching it and you're saying, 'Oh, shoot, against TCU I wish I would've called this or that,'" Kingsbury said. "And now you get a chance to do it immediately. That's been fun to turn our game on and see it from a different perspective. Step back and see, 'Hey, I didn't call this, but this would've worked,' and try to build off that."
There was much made about Chip Kelly's NFL spiral, and many believe his college-based offense was not sophisticated enough once teams caught on to his game-planning. Kingsbury has dazzled with his weekly wrinkles, but the 49ers will be the first team to get another look at him -- and have the previous matchup still fresh in their minds.
"We had this situation last year," 49ers coach Kyle Shanahan said. "We played Seattle, then I think we had Denver and then we had Seattle the next game. So, it's always a little different when you have these situations. It can be fun, too, because it takes out a lot of the scheme stuff. Not a lot has changed in the last two weeks at all. Guys kind of know what they're getting."
The Cardinals played well at home in the first matchup, scoring 25 points against a team that had allowed 23 the previous four games combined. Quarterback Kyler Murray finished 17-of-24 for 241 yards and two touchdowns, including an 88-yard scoring strike to Andy Isabella on the final offensive touch of the game.
The Cardinals were hoping to get the ball back, but it never happened, as San Francisco held on for the close win. The Cardinals had plenty of chances to grab a road victory last week against the Buccaneers but dropped that one by a field goal margin as well. They have lost three straight and sit at 3-6-1 on the year.
"I don't think we've hit a plateau," Kingsbury said. "I think we have to do the little things better. The effort continues to be outstanding. It gives ourselves a chance at the end of every game, but the margin of error is so small in this league that if you're having those penalties and having the missed opportunities that we've had in the red zone and defensively, you're not going to win those games."
Continue reading...